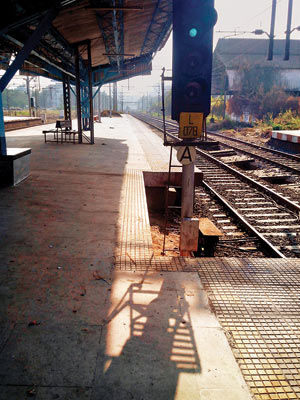 Mumbai:  The signal pit at Ghatkopar station where 16-year-old Monica More fell and her arms got crushed under the train is not the only blind spot on the Central Railway. Similar pits and danger spots dot other stations too.
Sources said that the pits mushroomed after the Central Railway extended its platforms to accommodate 15-car trains. Many platforms on Central Railway are passenger unfriendly, not of uniform level and have many blind spots that could be risky for commuters.
Starting from Thane towards CST, the first such platform is Bhandup. The station's platform 2 has a pit near the spot where the ladies compartment halts. A little ahead is a huge hole with debris stacked around it —  a sign that signalling work had begun but left incomplete for the past six months.
The pit at Ghatkopar station, which caused More's accident, is now in the process of being removed.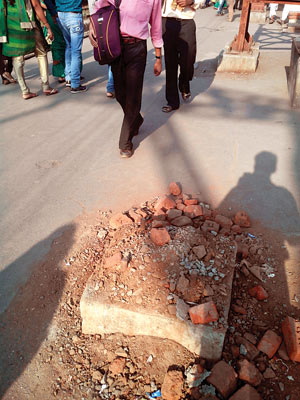 Platform one at Vidyavihar is longer than platform two by a few metres, posing a risk to commuters. At Kurla, work on a foot overbridge has been abandoned for the past one year and since then iron piers have been protruding, posing a risk to commuters.
Railway officials say stations have been revamped as the length of trains has increased. This has led to complications. "Some signals could not be shifted due to their strategic position and so a pit was built. But, we have realised the folly and have begun shifting them," said a railway official.
Railway activists said signals could be put up on the roof if positioning was important but it would be dangerous to leave them where they were now.
Central Railway spokesperson Ashok Singh said the railways has formed a team to assess the problem. "We have formed engineering teams that will visit each station to identify the problems," he told.
2.5 lakh passengers every day:  The station's signalling pit was responsible for the incident where 16-year-old Monica More lost both her arms. The railways now intend to relocate the signal after the incident.
2.0 lakh passengers every day

Problem 1:  When the  length of the station was increased to accommodate 15-car trains, the signal was not shifted. This resulted in a gap on the platform, posing a risk to commuters. This is near the spot where the trains' ladies compartment halt.
Problem 2:  On the middle of platform 2, is a huge hole with a pile of debris around it. Although the signalling work was stopped six months ago, the dug-up portion has not been filled.
3.8 lakh passengers every day:  Platforms have iron spikes jutting out. They were intended to be the base of a footover bridge, work on which has been stalled for more than a year.  This poses a risk to commuters as it is a busy station
Vidyavihar – 1.5 lakh passengers every day:  This station's south-end is a danger zone with one side of platform longer than the other. The skewed layout can be dangerous for commuters. The uneven platform surface has added to commuters' woes.