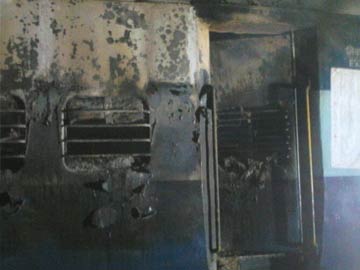 Thane (TNA): At least nine passengers, including a woman, were roasted alive when a fire engulfed the speeding Mumbai-Dehradun Express near Dahanu town in Maharashtra's Thane district early Wednesday, officials said.
The fire is believed to have erupted in one bogie and quickly spread to two other bogies, catching the passengers in their sleep around 2.30a.m. on Wednesday, a Western Railway official spokesperson said.
"The fire was noticed on the speeding train by a level-crossing gateman who alerted the guard. The guard informed the driver and the train was stopped. The gateman did a commendable job and averted a major disaster," the spokesperson said.
According to preliminary information, the fire broke out in S-3 coach and quickly spread to the other adjoining coaches as the train hurtled to its destination.
Two of the victims identified are Dipika Shah of Ghatkopar and Devshankar Upadhyay of Borivli, while the identities of the others are being ascertained.
The fire was brought under control shortly after the train was brought to a halt at Gholwad station, around 145 km from north of Mumbai on the Maharasthra-Gujarat border.
Accident relief vans have been sent from Mumbai and Gujarat to assist in the relief operations and the injured have been admitted to hospitals in Dahanu and Gholwad, the official said.
Top officials, including the divisional railway manager, have rushed to the tragedy site and are supervising the relief operations.
Helpline Numbers: 022-23011853, 022-23007388
Railway minister announces compensation
Railway Minister Mallikarjun Kharge has expressed grief over the death of passengers in the fire mishap on board the Mumbai-Dehradun Express and announced an ex-gratia of Rs five lakh each to the next of kin of those killed.
"The railway minister has expressed deep grief over the incident and announced an ex-gratia of Rs.5 Lakh for those who died in this unfortunate incident and Rs one lakh to those seriously injured," said Railway Board Chairman Arunendra Kumar.
A sum of Rs 50,000 will be given to those who received minor injuries.
The commissioner of Railway Safety will conduct an inquiry into the fire incident, he said.
"The cause of the fire is yet to be ascertained. However, the fire has been put out and the train has made its forward journey," Kumar said.
The coaches have been separated from the train and the train has it made its forward journey, he said.
Senior railway officials have rushed to the site.