Mumbai:  The much-awaited Mumbai Monorail, which is expected to resuscitate Mumbai's struggling transport infrastructure, has enveloped some busy road stretches and junctions in darkness, posing a real danger to motorists and walkers.
Monorail services have not started yet, but already some are angry about the risk posed by the absence of lighting after sundown.
The are under the monorail station in Chembur, Chembur Camp, Vashi Naka, the stretch going past Rashtriya Chemicals and Fertilisers are some instances. There are seven stations on the Wadala-Chembur rail line.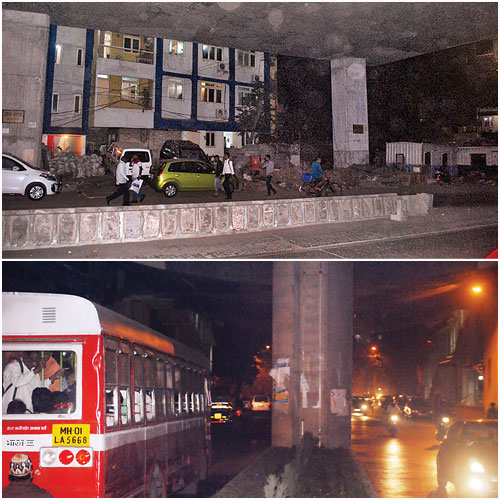 "The Mumbai Metropolitan Region Development Authority claims that it is the planning authority for the city, but the mess created in Chembur goes against the claim," said Raj Kumar Sharma, president of the Advanced Locality Management and Networking Action Committee (ALMANAC) in Chembur.
The condition of the roads below the monorail is terrible in many places, making driving very risky.
"New footpaths have been laid ahead of the inauguration. But once the rail system is opened to the public the authorities will dig up the roads again," Sharma said.
Other residents also pointed to the drainage and sewer lines that are choked due to the construction work and overflowing into residential colonies in the area.
A local civic official, speaking on condition of anonymity, said that resurfacing of the roads would be taken up only after the monsoon.
Metropolitan commissioner UPS Madan was not available for comment.
Last week, GP Garg, former commissioner of railway safety, inspected the 8.8-km monorail project between Chembur and Wadala. A series of tests were also conducted and the clearance report is expected to be submitted to the MMRDA within a week.